Strategies for CEOs: How to Set Yourself Apart to Attract Top Talent
By now, you may have heard of and feel the impact of what is being termed the "Great Resignation". Coined by Anthony Klotz, an associate professor of management at Texas A&M University, this term is being used broadly to address the vast wave of employee turnover across the nation.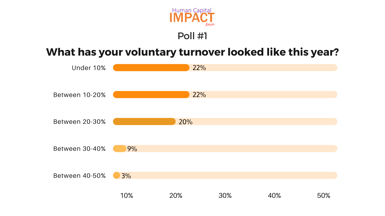 As the vaccination became more widely available in the Spring of 2021, we saw the market shift. The Labor Department reported a record-breaking 20 million US workers quit their jobs between April and August of this year. The average annual voluntary turnover was reported to be 25% in the 2021 Bureau of Labor Statistics report, and we anticipate that number to be significantly higher over the next year.
So, what's driving this mass exodus? Klotz attributes the four main causes to:
a backlog of workers who wanted to resign before the pandemic but held on a bit longer
burnout
what's being called "pandemic epiphanies" in which people experienced major shifts in identity and purpose that led them to pursue new careers and start their own businesses; and
an aversion to returning to offices after more than a year of working remotely.
Essentially, the pandemic has given people the space to rethink their careers, work conditions, and long-term goals.
According to a recent survey from global outplacement and coaching firm Challenger, Gray & Christmas, Inc., 68% of companies are worrying about the exodus of talent and 85% of companies are experiencing a talent shortage.
3 Strategies for CEOs to Set Yourself Apart to Attract Key Talent
After seeing the impact this was making on our clients and talent community, Helios HR hosted a Human Capital Impact Forum on Friday, October 29, 2021, to bring executive leaders together to discuss strategies to set their business apart in this tight labor market.
1) Review Your Employer Brand and Value Proposition
First, getting clear on why a candidate should join your team is critical when you are trying to compete in this market. How you position your employer brand and value proposition, both in-person and online, can influence whether a candidate even considers setting up an initial phone screen or applying for a position with your company. As Grant shared, "there is the brand you have, and there is the brand you think you have."
As part of the recruiting assessments Robertson performs for Helios HR clients, she reviews the employer brand and how it comes across to prospective candidates. Her biggest recommendation for employers? Show people stories.
"It's one thing to say something about your culture, but it's another to show it," Robertson said. She encourages leaders to create video testimonials to highlight what it's like to work at the organization, what's unique, why people stay, and to have everyone from interns to long-tenured employees participate in telling their stories.
What about Glassdoor Reviews?
Employers should assume that all candidates are going to look at your Glassdoor reviews before applying. Robertson said it shouldn't be a once-a-year benchmark employers review, rather it should be constantly monitored and managed.
She recommends CEOs communicate why Glassdoor reviews matter to their business, why it is important to get their team's feedback, and how it can impact the company. Recruiters should also encourage candidates to review their experience with the interview process. Robertson said the disconnect is that employers usually don't have these intentional conversations with their team members and candidates. She often sees low-touch emails that ask employees to give a review and then people forget about it because they don't think it's important.
To that same extent, when you do get feedback from employees or candidates whether it is positive or negative, leaders must take the initiative to respond and follow through. Your employees need to see you value their opinions, and you are going to address them. Just like with an employee engagement survey or a NetPromoter survey, getting feedback is important to understand their perspective and then you can act on the results. This is how you make sure your internal and external brand match up and it will help you to stay afloat in this market.
2) Make a Great First Impression
Recognizing that the first conversation with a candidate can make or break their decision to move forward in the process, this initial introduction to your company can have a lasting impression. This is your chance to set the tone for the candidate's experience and make sure that they are getting a transparent picture of what it is like to work at your organization.
As a government contractor, Waddell wants candidates to immediately feel connected to the mission, culture, and team at IOP. Here are a few tips he and his fellow panelists shared:
Try to make a personal connection right away. Talk about who you are as a person, how you got started, and see what synergies exist between you and the candidate.
Learn about the candidate and discover what their drivers are. Then focus your conversation on those drivers to try to tie them to the firm and the culture immediately.
Let them know how they would fit into the big picture. Share your purpose and mission of the organization, and where you are headed. They want to know the impact they will have in their position, and what things will look like long-term.
Talk about what opportunities exist for their career growth. Whether the candidate plans to be with the firm for five years or 20 years, he shows them what their career plan could look like and the different paths they can take. He also tries to get them enthused about their training program, where one-third of the annual funds can be used for any personal or professional development that an individual wants.
Be authentic with your culture. Culture is something you can't buy. People are looking to feel like they belong and that they can bring their entire self to work. Bring in fellow team members to introduce them to or leverage the use of your employee video testimonials and point them to experiences people are having on your team.
If you don't take the time to do some of these things in your first initial conversation, top candidates could be gone.
3) If You Can't Pay Top of the Market, Share What You CAN Provide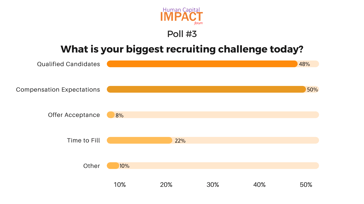 One of the greatest challenges we see is the ability to compete with the compensation larger employers tend to be able to offer. Half of the webinar attendees voted "compensation expectations" as their top recruiting challenge. Expert recruiter, Robertson shared, "money is important, you need to be as competitive as possible, but it is not everything."
You will always have candidates who are motivated by money and jump from job to job. Those candidates might not be the candidates that are beneficial for your company long-term. Instead, focus on who you can invest in.
Show a defined career path and growth opportunities. Be honest about what you can provide and help them visualize where they can go with your organization. If you can't offer upward mobility because it's a flat organization, then don't hide that. Perhaps you can offer other ways people can grow and develop whether that's through self-enrichment, reskilling, or moving to a different department or team. Regardless of demographics, people want an experience with purpose and to know that their contributions have meaning and are valued.
Provide flexibility. People will go somewhere new for flexible work schedules. If you can offer flexibility with work schedules and focus on deliverables and performance outcomes instead of the old 8 am to 5 pm schedule structure, you'll attract more candidates with that mindset. Helios HR offers flexible work schedules and flexible PTO, empowering their team to take however much time they need when they need it. At Challenger, they have a similar mindset of flexibility and a culture of "yes, and". Andrea gave the example of allowing a high performer to travel and work in different time zones. While flexibility is harder in certain industries such as government contracting, Kyle encourages leaders to be creative. She gave an example of rotating software engineers off of a SCIF environment after projects are completed so they have variety in their experience, and it doesn't get stale.
Trusted relationships. A theme that all the panelists talked about was their commitment and focus on building and developing relationships with candidates and employees. Taking the time to ask about their personal lives, wishing a happy birthday, congratulating people on major life milestones, and talking about the hard things. Being there to support one another and fostering a culture among people that promotes empathy, compassion, connection, belonging, trust, and respect. These are the non-negotiables that you either have or you don't, and they can have a major pay-off.
The expectation today is "working to live, not living to work." It's not all about the money, it's about living. As people's lives change, so do their needs and motivators. People aren't afraid to vocalize what they will and won't tolerate. The pandemic reset life priorities for so many and people are very intentional about what they look for in an employer. To be competitive, it's essential to be agile in shifting your mindset from the old way of doing things to what is desired by people now. "They have a choice, we don't have a choice," said Waddell.
What Should Employers Start Thinking About for 2022?
CNBC reported 55% of Americans anticipate looking for a new job in the next 12 months. As leaders are planning for 2022, the ability to be resilient will continue to be a top priority. Addressing, understanding, and recognizing the behaviors around change and then thinking through how to best sustain those behaviors throughout the organization.
In addition to adopting an agile culture, Grant shared Challenger, Gray and Christmas asked what employers should be thinking about in a recent market survey. The top-scoring areas of focus were:
developing women
diversifying your talent population; and
coaching employees.
The Final Takeaways
Leaders should match your core values, mission, and vision to where you want them to be. "That is your vector and velocity of your business and make sure they are pointed in the right direction," Waddell said. Candidates will pick up on that in a heartbeat. We must use them as definers and hopefully our culture and inclusion, and where we are going, speak to them.
"Measure what you treasure, and then reward it," said Grant. She emphasized the importance of developing your middle managers as they are the heart of the organization. Provide them with development and coaching; two different initiatives that can make a big impact on the future success of the organization.
Robertson's final piece of advice was reiterating the importance of being creative and thinking outside of the box. Let go of how you've always done things. The workforce 10 years ago isn't the same workforce as we have today. Our society has changed. Employers who can shift and be open and innovative are going to further in their ability to attract and set themselves apart from hiring and retaining top talent.
If you have questions or are seeking additional resources to help you navigate this challenge in your business, please don't hesitate to reach out to us at Helios HR to schedule a no-obligation consultative call.