Helios HR Honored As Community Leader Through CARE Awards
FOR IMMEDIATE RELEASE
Helios HR Honored As Community Leader Through CARE Awards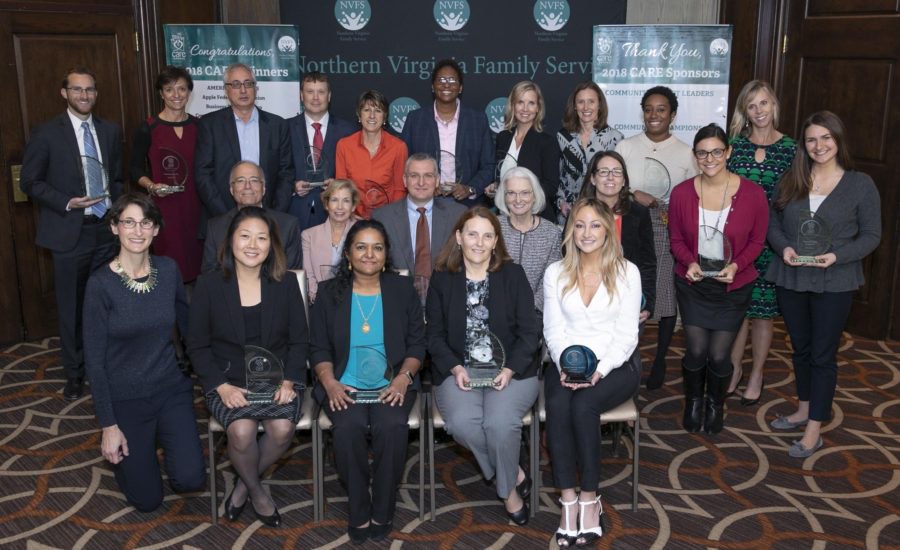 Northern Virginia Family Service (NVFS) selects Helios HR as a leader in community impact, family-friendly policies and employee engagement to receive its Companies As Responsive Employers (CARE) Awards.
(Reston, Va. – October 4, 2018) For more than 25 years, the CARE Awards have recognized outstanding companies moving the needle to make Northern Virginia a better place for everyone to work, live and play. Community engagement — along with outstanding employee engagement and culture, and progressive family-friendly policies — is a key pillar of CARE-ing companies.
For the second year, Helios HR will be honored as a responsive employer for its deep community impact, outstanding employee engagement and culture, and progressive family-friendly policies.
"As an employer, the number one word the Helios HR team uses to describe our culture is caring. We foster a culture that allows employees to bring their "whole to self" to work. For us, this encourages people to be authentic. We demonstrate caring by providing team support as we celebrate together and lift each other up through struggles. We fully believe that people thrive in community, and it is our hope that we are a catalyst for positive change," said Kathy Albarado, CEO.
CARE Award winners are selected based on their performance in the categories of community involvement and impact, health and wellness benefits, work-life programs and policies, and development and education programs.
"CARE Award winners are leaders in our community who are both inspirational and aspirational," shares Stephanie Berkowitz, president and CEO at Northern Virginia Family Service. "They continue to show us through their actions and their values that our economy, our community and our bottom lines are strongest when we engage deeply both within our community and with our people."
Awards will be presented at the 26th Annual CARE Awards Breakfast, held Thursday, Nov. 8, 2018, at the Sheraton Premiere Tysons Corner. Please join us as we celebrate the ways in which winning companies are engaging their employees and supporting our community through innovative corporate social responsibility tactics.
2018 Moderator
Michael Neibauer, Associate Editor, Washington Business Journal
2018 Panelists
Charles Kuhn, President & CEO, JK Moving
Sheila Murphy, Founder & Partner, FlexProfessionals LLC
Darcy Smith, Senior Vice President of Team Development, Custom Ink
Information on attending or sponsoring is available at nvfs.org/careawards.
###
About Helios HR: At Helios HR, we specialize in human capital consulting, outsourcing and recruiting. Our team of in-house experts helps to bridge gaps and provide on-demand customized solutions to attract, engage and retain the top talent organizations need. We navigate the challenges of today's ever-evolving workplace – and, with our flexible services, we offer more than one path to get you where you want to be. For more information about us, please visit www.helioshr.com.
About Northern Virginia Family Service (NVFS): Northern Virginia Family Service's (nvfs.org) breadth, depth and scope of services offer the resources and support to ensure that everyone in need, at every stage of life, maximizes their potential and fully contributes to a thriving community. We provide the essential building blocks for financial, emotional and physical well-being, serving as leaders and innovators for the Northern Virginia community. Every year, we empower 34,000 individuals and families to achieve self-sufficiency. With these essential resources, our community is better equipped for future success and engagement among all of our neighbors.