How to Recruit Early Career Talent [with interview guide template]
Early career talent often find themselves trapped in a no-win situation. Every job seems to require years of experience—but how can you get experience without a job?
Employers often struggle with a similar problem, but in reverse. You might like to give opportunities to promising early talent, but how do you identify those promising candidates when they don't have any prior work experience?
It's tricky, especially if you're not used to dealing with entry-level candidates. However, with the right hiring process, you can identify and nurture emerging talent within the talent pool.
What is early career talent?
Early career talent describes anyone with less than two-to-three years of relevant professional experience. This can include people like:
College graduates: Recent graduates have lots of knowledge but very little hands-on experience. Many of them are looking for their first job and have limited experience of working in a professional environment.
Career switchers: People often change paths during their professional lives. After the Covid pandemic, around 20% of Americans left their old jobs to pursue alternative careers. While these candidates may have some transferrable skills, they lack relevant job experience.
People skilled through alternative routes: College students aren't the only ones entering the workforce. Some candidates may come through other routes, such as apprenticeships, boot camps, or certification courses. They may also have acquired relevant skills through military service or by running their own business.
Early career recruitment can be tricky. Assessing candidates with limited experience can be harder than those with an established track record. Candidates with little-to-no experience aren't always aware of professional norms or how to navigate the recruitment process. 
Whether you are hiring a cohort of interns and entry-level professionals or you only occasionally have a junior role to fill, it is worth assessing your recruiting strategies for these kinds of hires. Making some tweaks to prepare yourself and the candidate will help you get the most out of the process.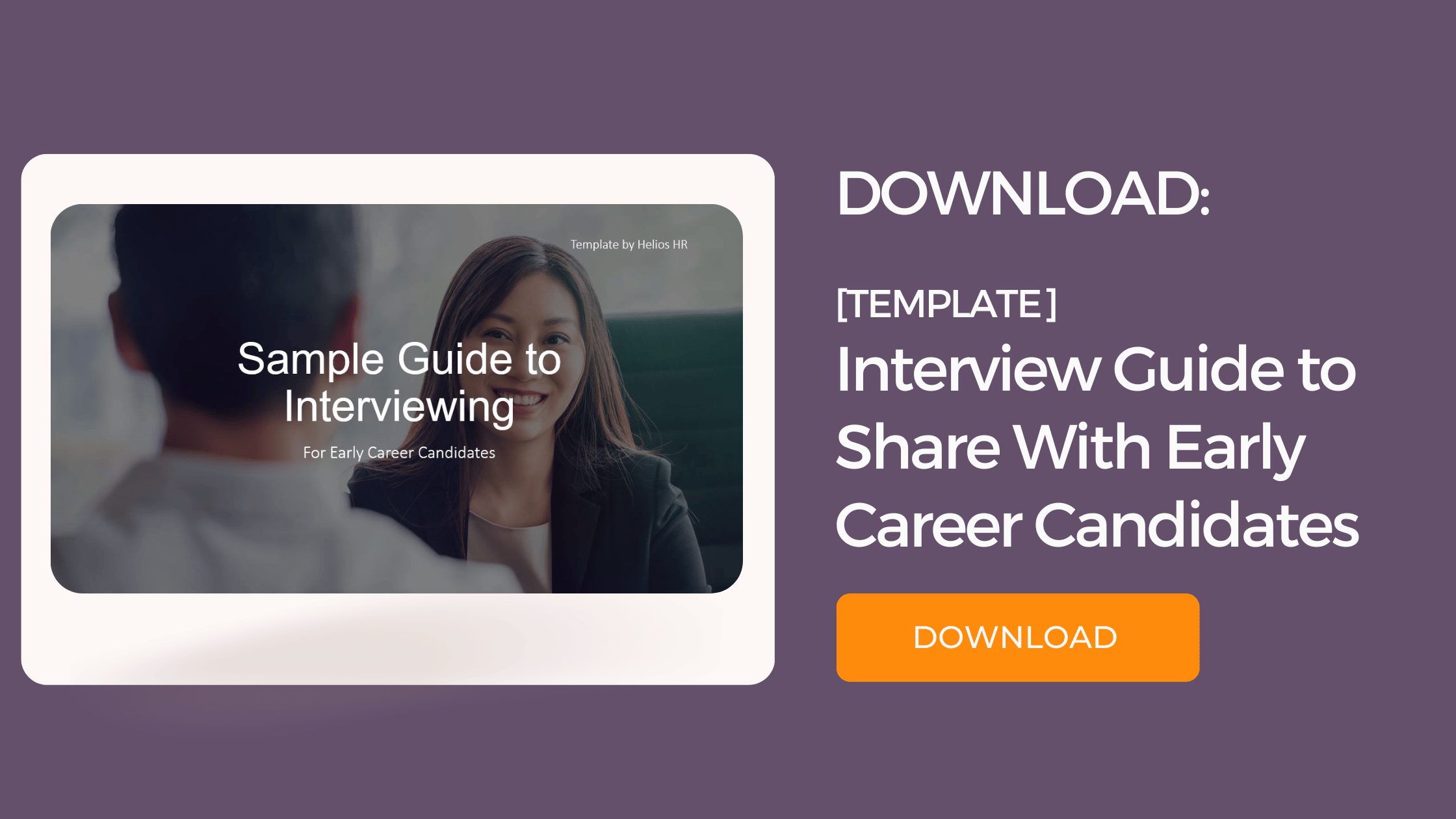 How to recruit early career talent
As with any hiring, early career recruitment is a matter of having the right talent acquisition strategy. Here's how to find the right people while creating a friendly job-seeker experience.
1. Advertise widely
If you typically hire from one or two universities or the same few majors or areas of study, you may miss out on employees who bring a different perspective. Try extending your campus recruiting program, attending job fairs, and advertising on alternative websites and publications.
Also, consider candidates who might be looking to change career direction. You can often reach these people through social media networks like LinkedIn and Twitter. As with all candidates, you'll want to ensure they understand the scope of the role and the reality of the salary before they commit. Make sure that the job description provides all of the information they need.
2. Update your candidate screening process
Entry-level job postings tend to attract large numbers of candidates from varying backgrounds. Lean on your Applicant Tracking System to handle them all. Setting up screening questions to confirm dealbreakers or critical factors like willingness to relocate, relevant qualifications, and work eligibility. Your job posting can include a list of such questions, which candidates can answer in their application or cover letter.
Take a holistic approach to resume review. Do they have transferrable skills from volunteer work or extracurricular activities? Also, be mindful of any potential bias in your hiring process. For example, "entry-level" doesn't automatically mean "young," so be sure you don't inadvertently discriminate based on age.
3. Prepare candidates for the interview, even if it is only a brief phone screen
A candidate looking for their first full-time job may have limited experience in how to behave in a professional environment. The rise of virtual early career programs such as internships means that some candidates might have never set foot in a real-life office.
This can affect their ability to perform in a face-to-face interview. It's a good idea to offer a little mentoring on how to succeed in an interview. You can also provide tips on how your organizational culture functions, like whether people normally address each other by first name.
The goal of any interview is for candidates to be able to do their best so that you can assess whether they have the skills needed to do the job. Consider sharing some, if not all, interview questions ahead of time so the candidates can prepare. This is particularly useful for questions where you are hoping for specific examples and behavior-based questions. 
4. Give an overview of the position and company
You likely have some standard language that you use to describe your company's culture. Talking to early career candidates is worth being more explicit and detailed.
What are typical work schedules, and how many hours do people usually work? What are some common characteristics of people who do well and are happy at the organization? More experienced candidates likely come with a sense of what is typical for those things based on reputation and industry standards. Someone who hasn't worked before doesn't have that perspective, and it is worth being upfront so they're not surprised when they take on the role. 
Career growth is important at all levels, but someone taking on their first full-time job often wants to know where this role leads. Be prepared to discuss growth opportunities, learning, and internal career paths. If it is the kind of job people usually stay in for a few years and then move on to other things, be upfront about that. That isn't inherently bad, especially if you can share what the person can expect to learn while there and what things people typically do next.
5. Be prepared to answer the questions they should have asked
Inexperienced candidates might forget to ask important questions during the interview. Is the role in-person, remote, or hybrid? Will they have to travel? What kind of projects will they work on? Will the hiring manager be their direct report manager? How does PTO work? If the candidate doesn't raise these questions themselves, it's worth raising them during the interview.
It's imperative to make sure they understand the recruitment process timeline. Tell them what happens next and when they can expect to hear from you. This is good practice for all candidates, but early career job-seekers benefit especially from this extra support.
6. Lead the salary conversation
More experienced candidates generally have a salary range they are targeting for a new role and have at least been through conversations about salary expectations in the past. However, someone who has never discussed salary before may not have the context to answer the question.
Often you will have two extremes- candidates quote salaries much higher than what is reasonable for the position, or the candidates will say they are open to any salary. Even if you've posted the salary or a short range for the position, it is worth telling the candidate what the salary typically is and confirming they are open to that. 
7. Provide
a guide
If you do a lot of entry-level hiring, you may want to create a one-pager with some highlights of the company culture and what they can expect during the interview process to share with candidates when you send interview invitations. That allows them to gain additional insight into the position and formulate their questions better before the interview. If you have college recruiting materials or even general recruiting brochures that you use for events, they can often be repurposed for this. 
You may also want to include information on how the interview process goes and what is expected of the candidates. Below is a template you can send to candidates interviewing at your organization; simply customize it to reflect your organizational branding and practices.
Download the early career talent interview template