How to Review the Best HR Software Vendors for Your Business
My first job in HR used a heck of a lot of paper and even more time filing it all away. There was a form for everything. Each one triggered a chain reaction of manual events, which usually included personally escorting the document all over for various signatures. Is this sounding familiar to you too?
Thankfully, over the past 20 years, there has been no aspect of human resources untouched by advancements in technology. Annual benefit elections are made with a few mouse-clicks instead of pages of enrollment forms. Candidates submit applications directly online, and now as a result of the COVID-19 pandemic, interviewing best practices were forced to change on the drop of a dime.
In fact, as we look forward technology is predicted to continue to be a key resource for managing both the known and the unknown of 2021 and beyond. As a direct correlation, 69% of respondents to Gallagher's 2020 HR Technology Pulse Survey US Report conveyed a desire to enhance or switch out some element(s) of their technology toolbox.
Getting Started with Your HR Software Technology Research
There are so many new and innovative human capital management software solutions available today to add to your arsenal. With a seemingly endless list of HR technology vendors, how do you decipher the options available to what you really need?
Part of my role as an HR Consultant for Helios HR is to help our clients navigate the best HR technology for their business through system selection, implementation and optimization. After being in the industry for a couple of decades and going through this process on more occasions than I care to count, I've become a bit of a subject matter expert on the topic.
In this article, I'll help you think through your end goals to figure out which HR technology option(s) best fit your organization. And don't worry, we are vendor agnostic, so I have no ties to one HR technology system over another.
What is the objective?
On its face, this question seems to be a simple one, but we all know looks can be deceptive. Taking a beat to huddle up and answer this question before consulting Google or sending out random RFPs can greatly increase the chances your HR tech implementation is a success. Your time is a precious commodity, so you want to make sure your process is as efficient as possible.
Each of your HR team members has unique experiences and perspectives on what it takes to get the job done. Each one can likely shine different lights and bring forth considerations that may have left you in the dark.
While you discuss the possibilities for your HR system, consider the following:
What are we working to improve or enhance?
Where are the pain points?
What do we love about our current systems and processes?
What takes way more time than it should?
Are there any compliance gaps to resolve?
What are your options for HR software systems?
Have you been trying to decipher all of the different acronyms of HR technology solutions and find yourself utterly confused? Don't worry – you're not alone!
HR technology solutions are evolving so quickly that the industry is a bit in dispute when establishing common terminology. Due to this, you may see different HR technologists break this down differently as you continue your research.
To add to the confusion, providers continue to add functionality as they try to differentiate themselves from competitors. At HR Executive's Spring Technology Conference and Exposition scheduled for March of this year, HRTechnology.com is promoting the "world's largest interactive online HR Tech marketplace" featuring over 1,000 products! And to think that number only represents those HR tech companies who are participating in the event.
Related reading: The Complete Guide to HRIS and HR Software
What's the difference between an HRIS vs. HCMS vs. HRMS?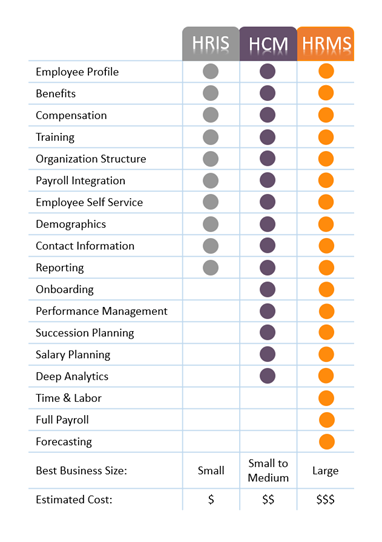 There are three clear most commonly used terms that have emerged to describe HR technology systems. They include:
Human Resource Information System (HRIS)
Human Capital Management System (HCMS)
Human Resource Management System (HRMS)
People tend to use these terms interchangeably in the HR industry. Let's take a deeper look at each one to identify their core differences:
What is a Human Resource Information System (HRIS)?
Often nicknamed in HR as the "system of truth", human resource information systems (HRIS) are just what they say they are – databases of the information for the people that make up a company's workforce. The key word here is database since this resource is utilized for every bit of information about the employee's experience with the company. For example, start date, termination date, salary, and title progression (or regression), are housed here. Commonly, these systems track the current and historical information saving you from digging in the employee's paper file.
While an HRIS is a huge asset, it is considered the starting point for the other HR tech systems. It's a great solution, but it may not have as many bells and whistles as the next step up. HRIS software can be perfect for small businesses because they are often the most economical option in terms of cost. A few examples of commonly used HRIS platforms are: Paylocity, Gusto, Cezanne, and Zenefits.
How is an HRIS Different From a Human Capital Management System (HCMS)?
If the HRIS system doesn't quite meet your needs, you can bump up to the next level with a Human Capital Management System (HCMS). Often, an HCMS will include the standard HRIS solutions along with added features such as onboarding, succession planning, performance management, etc. An HCM system will also give you the ability to do a deeper analysis of your HR metrics.
A Human Capital Management System is good for small to medium-sized employers and as for cost, they might have a greater budgetary impact. We frequently come across these HCM vendors during our client's systems selections: Namely, Sapling HR, and Ceridian Dayforce.
What is a Human Resource Management System (HRMS) Compared to an HRIS?
Human Resource Management System options tend to be the top of the line and will include all of the features previously mentioned in an HRIS and HCMS and a few more. Generally, HRMS vendors in this premium category have the added capability of providing forecasting analysis and can also fully process payroll.
HRMS software platforms are best utilized by mid to large organizations with higher employee counts. Given that these technologies often offer every feature under the sun, and they also have a tendency to be the most expensive in terms of cost. Full-service HRMS software solutions include: Bamboo HR, UltiPro, Workday, and Sage.
Additional Considerations When Deciding on Your HR Software Vendor
It's important to point out that functionality still may vary from the particular HR software provider. As you vet the different HR tech solutions, you might find an HRIS that also includes an onboarding module or full payroll functionality. Or further, you may determine you don't need one mega solution like an HRMS, but an HRIS system with an added separate tool.
Many HR software vendors offer several different tiers of solutions, and often each can be highly customized to fit what you are looking for (and what your budget can afford). You might consider starting with a basic package, getting that set up, and then building or adding modules over time.
Other Options for HR Technologies and Tools
There are also quite a few HR tech vendors that focus solely singularly focused HR solutions. They are still terrific alternatives to tailor to your organizational (and budgetary) needs. A la carte HR tools are often great options and their contributions are by no means diminished. Just a few of these honorable standalone HR technologies include:
Applicant Tracking Systems (ATS): An ATS is for all things recruiting. For instance, it can help enable your recruiters to house candidate data, reach a broader audience more efficiently, screen more effectively and simplifies background investigations while also making reporting and compliance a breeze.
Benefits Administration (BA): Less familiar than the others, yet still exceptionally helpful. Benefits can feel very complex and BAs help your HR team track it all to ensure changes are made in a timely manner.
Performance Management (PM): PMs are growing in popularity since they encourage clear expectations and encourage regular performance conversations. Decreasing the administrative burden increases utilization. Often includes goal trackers and peer-to-peer feedback solutions.
Employee Self-Service (ESS): Allows employees increased autonomy which has been scientifically tied to improved job satisfaction and retention. At the same time, ESS minimizes the administrative burdens on your HR practitioner's precious time.
As I look back, it's simply amazing to see how HR technology continues to evolve. The predictions of what is just on the horizon are equally fascinating. The demand for remote collaboration tools and the ability to securely access and analyze cloud-based workforce metrics is exponentially on the rise.
The industry is starting to see the incorporation of gamification in the interview process to make more informed hiring solutions. And artificial intelligence (AI) is starting to join the party, helping practitioners ensure compliance and making recommendations based on the information it gathers.
Technology's evolution in HR has had an invaluable impact on organizations, minimizing the amount of time spent on transactional and administrative tasks. Now instead of walking paper documents all over the building and spending time buried in paper files, we can focus so much more on core and strategic initiatives. HR technology allows us to be a true collaborative resource balancing both the advancement of an organization's strategy and mission, all the while providing white-glove support to the organization's number one resource – its people.