Discover Engagement Insights with Employee Pulse Surveys
The 2020s have been a stressful decade for everyone, from the Quiet Quitting trend of 2022 to the slew of high-profile layoffs in 2023. All of this uncertainty has had a big impact on employee engagement.
According to Gallup, only 23% of workers describe themselves as fully engaged, while 59% are so disengaged that they consider resigning. If you're relying on annual engagement surveys to identify these people, you might not find them until it's too late.
That's why it's important to use pulse surveys to monitor employee satisfaction. A pulse survey is a short, focused set of questions that allow you to monitor employee engagement levels. It's a great way of keeping your finger on the pulse – hence the name.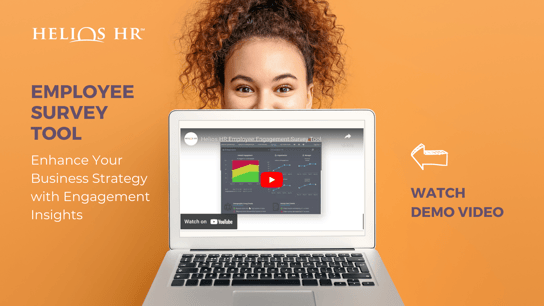 How to ask the right employee pulse survey questions
Pulse surveys are short, focused questionnaires that give you a rough idea of how things are going. They're not as detailed as annual employee engagement surveys, so you won't get a precise picture of your team's current state. However, if you ask the right questions, you get valuable insights and take corrective action.
When conducting a pulse check, here are some things to bear in mind:
1. Use the right platform
Several digital platforms will allow you to create pulse surveys. These tools will allow you to set up your questionnaire in a few clicks, and employees can respond online. A good platform will offer real-time survey results and insightful visualization.
One such platform is the Helios HR Employee Engagement Survey Tool, which mixes live data and historical trends into a single dashboard. Using a pulse survey tool like this, you can easily see whether engagement levels are heading in the right direction.
2. Limit the number of questions
Surveys are always a trade-off between detail and engagement. Too few questions, and you won't get enough useful data. Too many questions and people will develop survey fatigue. Ideally, pulse surveys should be concise and focused.
Typically, you might include 10-15 questions in your survey. Respondents should be able to complete the whole thing in under 5 minutes, which will help maximize engagement. If you pick the right questions, the survey will provide sufficient detail.
3. Focus on what's changed recently
Your team has probably seen lots of changes recently, including a switch to remote or hybrid work.
You can track the impact of these changes by asking questions like:
How would you rate your work-life balance?
Do you feel a good sense of job security?
Are you happy with your professional development?
Has your workload increased recently?
Do you feel valued as an employee?
Does remote work make you feel disconnected from the company culture?
How inclusive is the current workplace culture?
How would you rate your financial well-being?
If you're struggling to think of questions, reach out to your team and ask them what's on their mind. You'll soon see common themes, such as their thoughts about remote work or their concerns about job security. Use these themes to compile survey questions that address the most important factors in the employee experience.
Recommended Reading

:

Everything You Need to Know About Maximizing Employee Engagement
How do you respond to employee pulse surveys?
Often, your pulse survey response will show you that there are no major changes, and it's business as usual for your team.
But sometimes, you may get results that cause concern. If there's been a lot of change within the company or in the outside world, that is likely to have a knock-on effect on employee engagement
Here are a few steps to help deal with challenging employee feedback:
Listen and engage
If employee engagement has taken a hit, then the first step is to try to rekindle team spirit. You do this by listening to employees' views, validating their concerns, and collaborating on plans to move forward. Team meetings are more important than ever, as these give colleagues a chance to check in and motivate each other.
Encourage and inform
A fall in employee engagement is often a sign that your communication methods aren't working. People may feel confused about priorities, or worried about recent changes. As a leader, your first priority is to win back their confidence.
Tell the truth, review your communication methods, and establish yourself as a reliable source of information. If your people trust you, they're more likely to commit to the team effort.
Diagnose and resolve
You may have some structural or technical issues that are causing engagement issues. For example, if your team has switched to remote working, they probably faced issues like:
Slow broadband connections
Problems accessing cloud services
Communication breakdowns when dealing with other remote workers
Issues trying to balance commitments like childcare with working from home
Any of these problems can drag down employee engagement. This is time for HR leaders to become trouble-shooters, so find whatever is slowing your people down and work with them to develop an action plan.
Return to your values
People want to feel like their job matters, but that's not always clear, especially for remote workers. When people are doing mundane tasks from home, they're more likely to ask, why am I doing this? Who am I helping? If they don't know, they're likely to disengage.
So, why are they doing their job? Who is your company helping? Take a moment to start a company-wide conversation about your company's values and objectives. How do you live your values each day?
People will become more engaged when they see how their work contributes to the mission.
Taking employee engagement to the next level
Pulse surveys are a quick and easy way to give your team a voice, and they allow you to identify minor issues before they grow into big problems. They're also an excellent way to measure employee engagement, which will help reduce staff turnover and support your HR strategy.
If you're interested in the Helios HR Employee Engagement Survey Tool, or you'd like to talk to us about strengthening employee engagement and employee retention, set up a no-obligation consultation call today.